USMC NECK KNIFE AFFILIATE RESOURCES
| | | |
| --- | --- | --- |
| | START PROMOTING NOW AND EARN HUGE COMMISSIONS! | |
We know the true value of our affiliates and bend over backwards to provide everything possible.  You, as an affiliate, will get everything you need to ensure you succeed.  We have banners and pre-written email swipes ready to go.  We also test our offers to ensure they convert.
GET PAID CPA VIA KONEX NETWORK!
Many of our TOP AFFILIATES prefer a flat rate CPA on each sale.  This means, rather than getting paid a % on each funnel step, you will get $12.50 CPA on every front end sale!
Prefer CPA, sign up for a partner account at Konex Network!
High converting and TESTED offers
Extremely low refund rate
High commissions
Top quality products
25% on monthly rebills
25% on every upsell
One on one affiliate support
5 "one-click" upsells
Multiple product quantities
Tested affiliate material
Your affiliate link will need to be formatted like you see below. Just insert your Clickbank Affiliate ID where you see "CBIDCBID."
You can also replace the 'ABC' with any tracking ID you would like to use.  For example if you are sending traffic from a blog, you can use the TID "myblogname".  Or, if you are using facebook ads you can use the TID "fbcampaign1".  You can use up to 20 alphanumeric characters in your TID.
http://CBIDCBID.neckknife.hop.clickbank.net/?tid=ABC
TESTERS NEEDED: New Survival/defense tool
Shipping address required for delivery
Delivery address for your shipment
Giveaway Time! Free Tactical Pen (Today only)
Shipping today (MM-DD-YY)
Your weapon is ready to ship (no background check needed)
Enter your shipping address here so I can send you this discreet knife for free!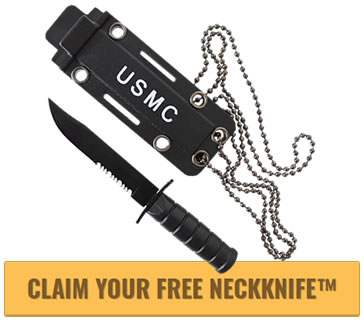 We've have just 75 to give away!
Just enter your address here so we can send you a free USMC NECK KNIFE™
What is it?
This tactical self-defense tool puts confidence around your neck, knowing you have the safety of a purpose-made instrument at your fingertips.
If you're going to carry any item as your daily, it needs to be the NECK KNIFE™.
Enter your shipping address here so I can send your new Tactical Defense Tool.  We've got 250 of this new USMC Neck Knives available and we're giving them all away for free.
Be warned: Our last giveaway lasted just 7 hours!
>> Get your free USMC Neck Knife here
What is it? It's a discreet, compact and easy to carry knife that the bad guys won't see coming! It's the perfect "Every Day Carry" for guys and gals!
But you need to act now because the last giveaway only lasted 2 hours before stock was completely gone.
Stay Safe,
Your friend in survival,
Below we have some banners of various sizes for you to use however if you need a specific sized banner please reach out so we can design something for you. Please save the banner you would like to use and upload it to your server.