KARAMBIT AFFILIATE RESOURCES
| | | |
| --- | --- | --- |
| | START PROMOTING NOW AND EARN HUGE COMMISSIONS! | |
We know the true value of our affiliates and bend over backwards to provide everything possible.  You, as an affiliate, will get everything you need to ensure you succeed.  We have banners and pre-written email swipes ready to go.  We also test our offers to ensure they convert.
GET PAID CPA VIA KONEX NETWORK!
Many of our TOP AFFILIATES prefer a flat rate CPA on each sale.  This means, rather than getting paid a % on each funnel step, you will get $12 CPA on every front end sale!
Prefer CPA? Sign up for a partner account at Konex Network!
High converting and TESTED offers
Extremely low refund rate
High commissions
Top quality products
25% on every upsell
One on one affiliate support
5 "one-click" upsells
Multiple product quantities
Tested affiliate material
Your affiliate link will need to be formatted like you see below. Just insert your Clickbank Affiliate ID where you see "D2C8S5".
You can also replace the 'ABC' with any tracking ID you would like to use.  For example if you are sending traffic from a blog, you can use the TID "myblogname".  Or, if you are using facebook ads you can use the TID "fbcampaign1".  You can use up to 20 alphanumeric characters in your TID.
http://D2C8S5.karambitk.hop.clickbank.net/?tid=ABC
TESTERS NEEDED: New Survival/defense tool
Shipping address required for delivery
Delivery address for your shipment
Giveaway Time! Free Tactical KNIFE (Today only)
Shipping today (MM-DD-YY)
Your weapon is ready to ship (no background check needed)
Free Knife - Shipping out today!
Get THIS Tactical Black Karambit Knife for FREE!

Patriot,
Get this knife for free. No trials, no future billing, NO B.S: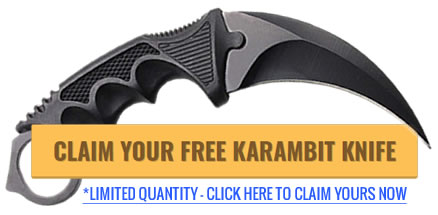 The Length from tip of blade to end of handle is a generous 7.4 inches which is large enough to tackle any task you throw at it!
This is the perfect knife for your EDC, hunting, camping, fishing and general use.  The blade design is extremely sharp so please use caution!
But, if you want a FREE Karambit Knife you've got to jump on this offer fast and get one right now because we have limited stock to give away!
Don't delay! This is a super hot offer and the final lot will be gone very quickly!
CLICK HERE TO GET YOUR FREE KARAMBIT KNIFE
Keeping you geared up ,
SIGNOFF
Fellow Patriot,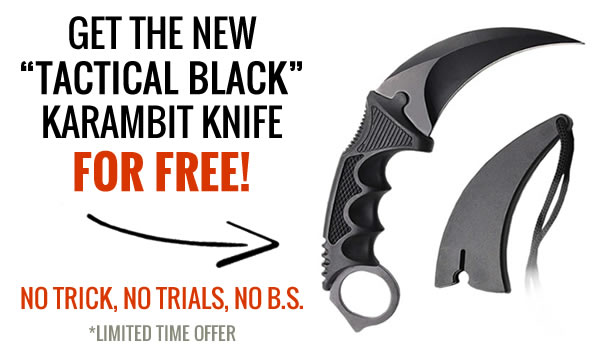 After testing over 112 different knife designs we landed on something pretty darn impressive!
The Karambit knife is the SHARPEST and most comfortable knife of them all and we want you to have one for FREE!
For a very short time, you can get this Tactical Black Karambit Knife completely free! No trial, no future billing – Just a wicked sharp knife for free!
But, if you want a FREE Karambit Knife you must claim your right now as this offer is super hot and our free stock is almost gone!
CLICK HERE TO CHECK AVAILABILITY
Keeping you geared up ,
SIGNOFF
Below we have some banners of various sizes for you to use however if you need a specific sized banner please reach out so we can design something for you. Please save the banner you would like to use and upload it to your server.